The Facilities Planning department is responsible for maintaining the District's structures on a strategic and operational level, ensuring we meet sustainability goals, health and safety standards, and legal requirements, including bidding processes, studies, and master plans.
The department also:
Plans and coordinates renovation and new construction projects

Establishes specifications for bidding processes for major and minor construction and repair projects

Prepares bid award recommendations for Board consideration

Assists in preparation of master plans for all campuses

Provides District-wide plans and studies, such as:

Facilities Condition Assessments Reports

Parking Study

ADA Transition Report

Sustainability Report
Construction Project Updates
For a review of recently completed, ongoing, and planned construction projects in the district, you can view quarterly updates by clicking on the links below:
March 2023: Facilities Updates
June 2023: Facilities Updates
September 2023: Facilities Updates
December 2023: Facilities Updates
Archive of Construction Updates
March 2020: Facilities Updates
June 2020: Facilities Updates
September 2020: Facilities Updates
December 2020: Facilities Updates
Commitment to Sustainability
As a leading employer and well respected public agency, SOCCCD understands it has a deep responsibility to its local communities and society at-large to operate its facilities in ways that are efficient, sustainable and cost-effective—with the least possible impact on the environment. Reducing energy consumption is good for the environment and any generated cost savings can be utilized to better serve students and all communities, locally, and globally. Consistent with these perspectives, the students, faculty, staff, administrators and Board of Trustees of the College have consistently pursued and implemented a wide range of sustainability efforts over many years, including energy efficiency improvement, recycling, LEED certification, green transportation and procurement practices, water conservation and more.
View our Sustainability page for more information.
Recently Completed Projects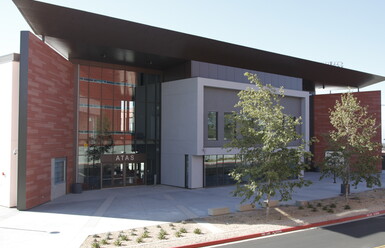 Saddleback College ATAS Building
The Advanced Technology & Applied Sciences (ATAS) building includes 52,913 GSF, 35,064 ASF, two stories, and is a LEED Gold – Equivalent building. The project also includes a 106,510 GSF tennis center housing eight tennis courts, team rooms, restrooms, a storage room, janitor room, intermediate distribution frame (IDF) room, and electrical room. A connector road and installation of 462 parking stalls is included. There are also six EV charging stations.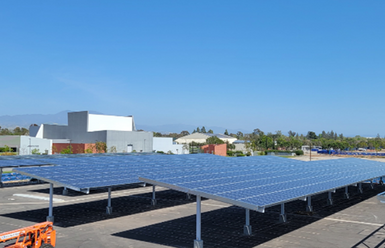 IVC Parking Lot Solar Shades
This project included development of a 190,000 square foot, lighted parking lot creating 594 additional parking spaces that opened in Spring 2019 and a battery storage system. The current project includes 1.3 megawatt photovoltaic panels supported on parking canopies. The system will interconnect with the local utility grid and integrate with the campus electrical system.
Ongoing Projects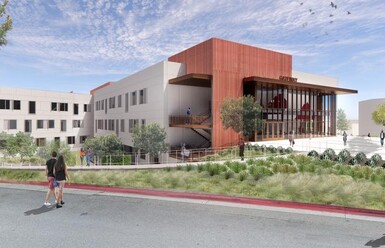 Saddleback College Gateway Building
This project will construct a new three-story building of 52,297 ASF, 77,985 GSF and will provide a new, highly integrated space for student services and consolidated and expanded interdisciplinary instructional space. The Gateway Building will house Admissions & Records, Career & Re-entry Center, Community Outreach & Recruitment, Counseling Services, Disabled Students Programs & Services (DSPS) and Learning Disabilities, Extended Opportunity Programs and Services, CARE, CalWORKS and Foster Youth, Financial Aid, Matriculation, Transfer Center, Veterans Benefits and Student Payment Office, Veterans Education and Transition Services, general offices, reading and study rooms, workrooms, storage rooms, meeting rooms, general classrooms and labs. This project will reduce the need for portable buildings and set the stage for the Student Services building renovation in a few years as outlined in the FMP. This Building is currently under construction and scheduled to open in Spring 2024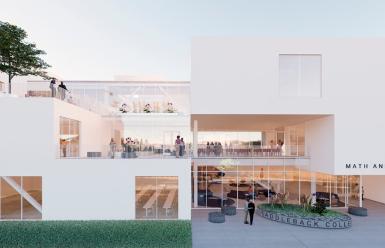 Saddleback College Math/Science Building
The project will downsize and replace the existing Science Math building to meet the educational needs of Saddleback College for Math and Information Technology. This project will construct a new building of 32,100 ASF and 49,385 GSF. The new Science Math building will house the Computer Sciences Department computer and cyber security labs; Math Department labs and lecture classrooms; large assembly room; broadcast room (distance education); library study and general collaboration spaces; division office; faculty, staff and adjunct offices; workrooms; storage rooms; meeting rooms; lounge; cyber services; and data processing rooms. The new Science Math building project will create a direct and intuitive connection between the upper campus main quad and the lower campus Parking Lot 10, by replacing the existing bridge and expanding the plaza between the Science Math building and the LRC building.  The construction phase is scheduled to commence in Spring 2023 with anticipated opening in Fall 2025  
Facilities Planning
Third floor, HS Building
Saddleback College
28000 Marguerite Parkway
Mission Viejo, CA 92692
Monday - Friday
8:00am - 5:00pm

Summer Schedule
Monday - Thursday
7:30am - 6:00pm
(May - August)