The Research and Planning department provides comprehensive data analysis and recommendations in the areas of instruction, student services, administrative services, technology, human resources and business services.
The department also:
Facilitates the district Strategic Planning process;

Analyzes research studies on student outcome measures consistent with existing accreditation standards;

Assists the colleges with data needs and methodologies in conducting program review and institutional effectiveness studies;

Supports reporting and coordination of grants in support of the growth and development of educational programs;

Facilitates the development, implementation and coordination of District-wide Plans
Get Involved
The District's planning and decision-making processes emphasize the importance of collaboration, inclusion, and participation to reach final recommendations. We welcome all feedback.
Department Highlights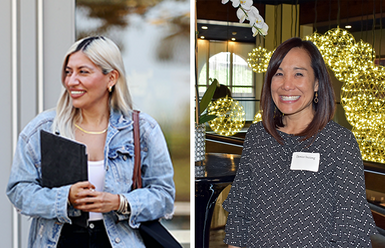 Planning Department Levels Up Degrees!
Congratulations to the Planning department's Judy Perez and Denice Inciong who both recently completed their higher education programs. Judy was awarded her Masters in Business Administration and Denice received her Doctorate in Education! 
2021 Employee of the Year: Gene Tjoa
2021 Employee of the Year is Gene Tjoa, database administrator for District Services Research, Planning, and Data Management department. He was described by his co-workers as not only technically skilled, but also very careful in his work, continually concerned about quality and security of SOCCCD systems.
Research and Planning Department
Third floor, HHS Building
Saddleback College
28000 Marguerite Parkway
Mission Viejo, CA 92692
Monday - Friday
8:00am - 5:00pm

Summer Schedule
Monday - Thursday
7:30am - 6:00pm